The Rooftop
Revel On The Roof
Outdoor Dining At Its Finest
There's no substitute for this. Everything up here is a little lighter, a little brighter. The mood, the views, the late summer afternoon that slips mysteriously into a long LA evening under the stars. Any wonder it's one of the best rooftop bars in downtown Los Angeles?
Hours of Operation
Lunch:
Monday - Friday | 11 am - 5 pm
Dinner:
Sunday - Thursday | 5 pm - 11 pm
Friday - Saturday | 5pm - 12am
Brunch:
Saturday & Sunday | 10 am - 3 pm
Where Rooftop Brunch Dreams Come True
All-New 9-Course Brunch
Hang with us every Saturday and Sunday from 10am - 3pm as we serve up the hottest dishes; taking you on a wild ride fusing together delicious culture, local fare, and a touch of nostalgia.
We're here to take back brunch by taking it to the next level with 9 fire courses, including three frozen cocktails, created for the culinary curious who are not afraid to experience an appetite for something beyond the ordinary.
Gang's all here. Raise your (tiki) glass to killer cocktails and reimagine what it means to drink and dine in style. We've got everything from traditional tiki to Private Barrel Selects to Frozé.
Join us on The Rooftop where your glass is always half full.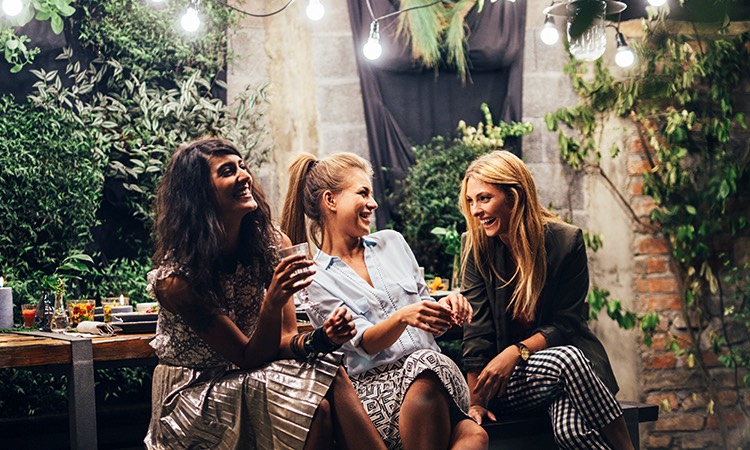 Urban Oasis
Paradise found far above the city streets and towering with the DTLA skyscrapers. The Rooftop at is our hidden oasis in Los Angeles. Sip, eat and chill on the 12th floor of The Wayfarer with friends, family or solo. Serving lunch, brunch and dinner…with a full bar and delicious cocktails.
Private Party
When the occasion calls for a setting unlike any other, The Rooftop is a few steps ahead of whatever you're imagining. Host your event among the Los Angeles skyline, from rehearsal dinners to networking receptions. We're here to cater to your important private event.
Rooftop All Day Menu
Small Bites
Miso Sesame Hummus
farmer's market crudité, furikake, cilantro pesto
Caesar
cotija, crispy tortilla chips, spiced pepitas
add grilled chicken +7
Chop Salad
chicken, black bean corn salsa, tortilla strips, avocado, pico, cheddar jack, green chili ranch
Crispy Brussels & Pork Belly
crispy brussels sprouts, peanut, ginger soy glaze, chili oil
Charred Octopus
gochujang aioli, pickled cucumber, kimchi vinaigrette, sesame salt
Elote Off The Cob
cotija, guajillo lime mayonessa, micro cilantro
Grilled Heirloom Carrot
chipotle orange vinaigrette, feta yogurt, sumac
Chilled & Raw
Hamachi Crudo
avocado, red onion, coconut lime nage
Ahi Tartare
cucumber, avocado, jalapeno, cilantro, sesame-soy aioli, sriracha, crispy wonton
Ceviche
shrimp, fish, cucumber, pico de gallo, habanero sangrita
Mains
Flat Iron Steak
potato puree, chimichurri bearnaise
Heirloom Chicken Breast
fingerling potatoes, mole rojo
Miso Glazed Salmon
rock shrimp fried rice, ginger soy glaze
Beef Short Rib
curry, potato puree, braising liquid
Thai Peanut Noodles
tempeh, carrot, mushroom, baby kale, vegetable peanut broth
Rooftop Burger
bacon, cheddar, little gem, tomato, horseradish aioli, brioche, fries
*vegan option available
Rooftop Drinks Menu
Cocktails
full bar and spirits list available upon request
Bad Bunny
"You might not understand the song, or this drink but rest assured both are good"
Choice of Aged Tequila, Carrot, Ancho Chile Verde, Lime, Agave
LA Girl
"Nothin' basic about this girl"
Choice of Vodka, Cucumber, Peach, Aloe, Lime
Life Aquatic
"The closest thing to sailing with Zissou"
Choice of Gin, Pineapple, Lemon, Cre?me de Violette, Blue Curacao, Lavender Bitters
Golden Eye
"Shaken, definitely not stirred and most definitely not a martini"
Choice of Bourbon, Amaro Montenegro, Allspice Dram, Lemon, Honey
Pene-chillin'
"For what ails ya, even on vacation"
Choice of Rum, Ginger, Honey, Lemon, Pineapple
Hotline Bling
"You used to call me on my cellphone... maybe after a couple of these you will again"
Choice of Mezcal, Prickly Pear Punch, Spice #3, Angostura Bitters
Mango Unchained
"You had my curiosity, now you have my attention"
Choice of Tequila, Mango, Cointreau, Lime, Agave, Chamoy
Tai Hard (With a Vengeance)
"Yippi-ki-yay motherf*****"
Choice of Cognac, Orgeat, Hibiscus, Dry Curacao, Lime
Wine
MIMOSA 15/55
orange, pineapple, guava, mango
BELLINI 16/65
peach, raspberry, blackberry, passionfruit
SPARKLING
Brut | Chateau Ste Michelle | Washington 13/52
Champagne | Veuve Clicquot | France 125
Champagne | Perrier Jouet | France 175
Champagne | Nicolas Feuillatte | France 95
Champagne | Taittinger | France 80
WHITE
Pinot Grigio | Santa Margherita | France 16/64
Chardonnay | Decoy | Sonoma 16/64
Sauvignon Blanc | Mohua | New Zealand 16/64
Riesling | Chateau St Michelle | Washington 16/64
SKIN CONTACT
Rosé | Chateau Ste Michelle | Washington 16/64
Rosé | Fleurs De Praire | France 16/64
RED
Pinot Noir | Calera | California 16/64
Red Blend | Conundrum | California 16/64
Cabernet Sauvignon | Bonanza | California 16/64
Merlot | Robert Hall | California 16/64
Frozen Cocktails
MAC DADDY FROZE | 16
Chateau St Michelle Rose, Lillet Rose, Pinnacle Vodka, Lemon, Strawberry
FRAP QUEEN | 16
Starward Whiskey, Mr. Black Espresso Liqueur, Coconut, Oatmilk
Hot Cocktails
JUST CHAI IT | 16

Chai Butter Real McCoy 3yr, Licor 43, Honey
IRISH I WAS A LITTLE BIT TALLER | 16
Tullamore Dew, Salted Caramel, Mr. Black Espresso Liqueur, Hot Coffee, Whipped Cream
Beer
ACE | Pineapple Cider | Sonoma, CA | 5% | 8
Michelob Ultra | Light Lager | Missouri | 4.2% | 8
Golden Road | Mango Cart Wheat Ale | California | 4% | 8
Golden Road | Dodger Blonde | California | 4.8% | 8
Boomtown | Bad Hombre Lager | California | 4.8% | 8
Golden Road | Wolf Pup IPA | California | 4.8% | 8
Estrella Jalisco | Lager | Mexico | 4.5% | 8
Non Alcoholic Beverages
Wayfarer Agua Fresca 7
Coke 4
Diet Coke 4
Sprite 4
Orange Fanta 4
Fiji (1L) 8
Ferrarelle Sparkling (750mL) 8
Iced Tea 4
Fresh Lemonade 5
Juice 5
Mocktails 8
Groundwork Drip Coffee 4
Spirits List
VODKA
Absolut 13
Absolut Citron 15
Absolut Elyx 16
Chopin 14
Ciroc Apple 15
Effen 14
Grey Goose 18
Ketel One 15
Hangar One Mandarin 16
Reyka 13
Tito's 14
Wheatley 13
GIN
Aviation 15
Beefeater 13
Bombay Sapphire 16
Botanist 15
Hendricks 16
Plymouth 16
Roku 14
Sipsmith 14
Appleton Signature 13
Avua Cachaca 15
Copalli 13
Diplomatico Reserva Exclusiva 16
Flor De Cana 7yr 15
Facundo Parasio 65
Havana Club 13
Leblon Cachaca 14
Mount Gay Eclipse 15
Mount Gay Black Barrel 16
Plantation 3 Star 13
Real McCoy 3yr 13
Rhum JM 15
Sailor Jerry Spiced Rum 13
Smith & Cross 16
Wray & Nephew 13
Zacapa XO 30
Zaya 16
MEZCAL
Bozal Ensamble 18
Del Maguey Chichicapa 26
Del Maguey Vida 15
Dos Hombres Espadin 17
El Silencio Espadin 15
Ilegal Joven 15
Peloton De La Muerte Pechuga
Rosaluna 13
Vago Elote 20


TEQUILA
Azunia Blanco 15
Azunia Reposado 17
Azunia Anejo 19
Calirosa Anejo 28
Casamigos Blanco 15
Casamigos Reposado 17
Casamigos Anejo 19
Clase Azul Reposado 35
Don Julio Blanco 16
Don Julio Reposado 19
Don Julio Anejo 22
Don Julio 1942 52
Fortaleza Blanco 17
Fortaleza Reposado 18
Fortaleza Anejo 20
Herradura Silver 14
Herradura Reposado 15
Herradura Anejo 17
Jose Cuervo Familia Reserva 55
Milagro Silver 12
Ocho Plata 16
Ocho Reposado 18
Ocho Anejo 20
Teremana Silver 14
Teremana Reposado 15
Siete Leguas Blanco 18
Siete Leguas Reposado 20
Siete Leguas Anejo 22
Tres Generaciones Anejo 15


Angel's Envy 16
Basil Hayden 18
Buffalo Trace 13
EH Taylor Small Batch 15
Elijah Craig Small Batch 12
Four Roses Single Barrel 16
Garrison Bro's Small Batch 18
Jack Daniels 13
Maker's Mark 13
Old Forester 13
Russell's Reserve 20
Woodford Reserve 16
RYE
Angel's Envy 25
Basil Hayden 20
High West Double Rye 14
Rittenhouse 14
Templeton 4yr 15
Whistle Pig 10yr 30
WHISK(E)Y
Crown Royal 14
Jameson 13
Kikori 13
Hibiki Harmony 22
Redbreast 12yr 18
Suntory Toki 15
Balvenie 12yr 25
Balvenie 14yr 30
Bruichladdich Classic Laddie 24
Glenfiddich 15yr 20
Glenfiddich 18yr 35
Glenlivet 12yr 18
Highland Park 12yr 22
Johnnie Walker Black Label 16
Johnnie Walker Blue Label 75
Laguvalin 16yr 40
Laphroig 12yr 16
Macallan 12yr 30
Macallan 15yr 50
Monkey Shoulder 13
EAU DE VIE
Courvoisier VS 14
Kappa Pisco 13
Hennessy VS 15
Hennessy XO 50
Pierre Ferrand 1840 16
Remy 1738 20
Remy Tercet 40
Remy VSOP 19
Remy XO 80
PACIFICA HOTELS BARREL SELECTS
Wild Turkey Single Barrel 20
Jack Daniels Single Barrel 19
Maker's Mark Single Barrel 22
Herradura Double Reposado 15
Cruzan Single Barrel Rum 13
Russell's Reserve Single Barrel 21
Knob Creek Rye 19
Rooftop Executive Chef Brunch Menu
$80 Per Person
Please allow up to one hour for entire experience
WELCOME
frap queen | bourbon, oat milk, café borghetti, selvarey coconut (served frozen)
BERRY
served family style
house made seedy nutty granola | greek yogurt, toasted coconut, wildflower honey, seasonal berries
FIRST BITE
served family style
cheese blintze | cinnamon mascarpone, balsamic peppered strawberries, picked thyme
SEA
served family style
ceviche tostada | shrimp, fish, cucumber, pico de gallo, habanero sangrita, corn tostada
INBETWEEN
fruta madre | tequila, watermelon, tamarindo, lime, agave (served frozen)
GARDEN
served family style
baby arugula | compressed watermelon, feta, pistachio, citronette
MAINS
choice of 1
belgian waffle | single barrel bourbon peaches, vanilla whipped cream, Vermont maple syrup
smoked salmon frittata | Boursin, asparagus, dill, chive, parsley
grain bowl | farro, baby kale, mushroom, carrot, avocado, jammy egg
breakfast fried rice | neuskes bacon, edamame, fried egg, ginger soy
SWEET
served family style
churro | cinnamon sugar, abuelita's ganache
LAST CALL
mac daddy froze | vodka, lillet, rosé, lemon, strawberry (frozen cocktail)
A La Carte
Rooftop Granola
greek yogurt, toasted coconut, wildflower honey, berries
Fruit Bowl
seasonal fruits, tajin
Caesar
little gem lettuce, romaine, croutons, parmesan, crispy capers, spiced pepitas
add grilled chicken +7
Chicken Green Chili
crema, pico, shredded cheddar, flour tortilla
Baby Arugula
compressed watermelon, feta, pistachios, preserved lemon vinaigrette
Ahi Tartare
avocado, jalapeno, cilantro, sesame soy aioli, wasabi wonton
Avocado Toast
rockenwagner levain, olive oil, marinated tomato, breakfast radish, furikake
add sunny side up egg +2
Ricotta Toast
rockenwagner levain, macerated balsamic strawberries, cracked pepper, thyme
Smoked Salmon Bagel
cream cheese, crispy capers, marinated organic tomatoes, red onion, everything bagel
Cooks Venture Chicken & Waffle
pickled watermelon relish, sriracha maple syrup
Breakfast Burger
wagyu blend, smoked bacon, tomato jam, fried egg, American cheese, fries
Burrito Mojado
neuskes bacon, scrambled eggs, cheddar blend, crema, guacamole, choice of salsa Rosa or green chili
Chilaquiles
choice of soyrizo salsa roja or chicken green chili, black bean puree, crema, guacamole
add sunny side up egg +2
Rooftop Brunch Beverages Menu
Liquid Breakfast
Recommended for the morning but served all day!
Ktown Cowboy
Tito's Vodka, House Made Korean Bloody Mix
DTLA Michi
Golden Road Mango Cart, House Made Michi Mix
Pillow Talk
Wheatly Vodka, Mr. Black Espresso Liqueur, Cacao, Demerara, Vanilla, Egg White